Watches in Space - 5 : Omega Big Time
Continuation of Watches in Space - 4 : Omega begins its adventure...
French Version: Les montres dans l'espace - 5 : Les grandes Heures OMEGA.
Far from the Earth
During the Apollo 8 mission, launched on the 21st of december 1968, the crew Frank Borman, James Lovell and William Anders had been the first human beings to leave the earth attraction, and to be in orbit around the Moon for 20 rotations (and so to see the hiden face of the moon, and the Earth in its globality). For sure, they were carrying with them their Omega!
Walking on the Moon
The paroxysm of the adventure had been of course the Appolo 11 mission, which take-off on the 16th of july, 1969, with on board Neil Armstrong, Edwin « Buzz » Aldrin and Michael Collins. The 21st of july, at 2:56 GMT, the lunar module with on board Neil Armstrong and Buzz Aldrin landed on the moon. By precaution, because one of their board instrument had just failed (with a Bulova mouvement?), Neil Armstrong left his watch in the module before leaving and become the first man to put his foot on the moon. Buzz Aldrin joined him fifteen minutes later and so became the first to carry a watch on lunar ground. Of course it was an Omega, the Speedmaster...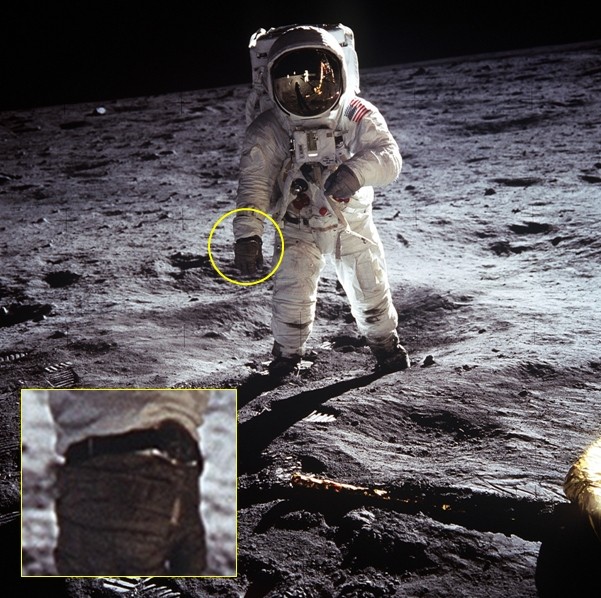 Notice that the Aldrin's watch had been lost when he sent it to the Smithsonian Institute to be exposed. Does the person who get it know the historical importance this watch?
A great fear for a great success
On the 11th of april, 1970, the ship Apollo 13, with on board James Lovell, Jack Swiggert and Fred Haise leaves for what should have been the third mission on the moon. The explosion of an oxygen tank dammaged the capsule, causing the abortion of the mission and an anticipated return on the Earth. After many events, all electrical devices not necessary for direct survival shut off to save power, it was on his Omega watch that the pilot jack Swiggert (who was probably also carrying a Rolex GMT) counted the 11 seconds of engines iginition needed to have the right entrance trajectory in the atmosphere. For great service given during this mission, Omega had been awarded by the astronautes the Snoopy Award, highest distinction in NASA.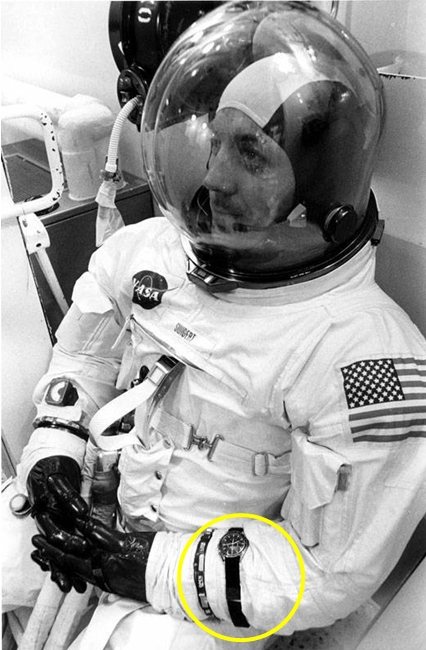 Jack Swiggert just before take-off

Waht could have be an enormous failure for NASA had become a great success... partially due to a mechnical watch...
Continuation: Watches in Space - 6 : Who except Omega?
Back to introduction: Watches in Space - 1 : Introduction.
Membres qui aiment ce contenu
⨯
Inscrivez-vous au blog
Soyez prévenu par email des prochaines mises à jour
Rejoignez les 21 autres membres