VICENTERRA LUNA: an invitation for a new journey...
Three years ago, Vincent Plomb launched is own brand VICENTERRA with a model financed by subscription, the GMT-3 Tome 1. (all the story here: VICENTERRA, Another approach of time: Vincent Plomb's interview.)
Since, the GMT-3 had a little sister, the Tome 2, and the Tome 3 in gold is about to be presented, carrying-on the adventure of this model.
But, after this model already full of poetry, VICENTERRA launches its second model, looking like a new invitation to be transported and to dream, the LUNA.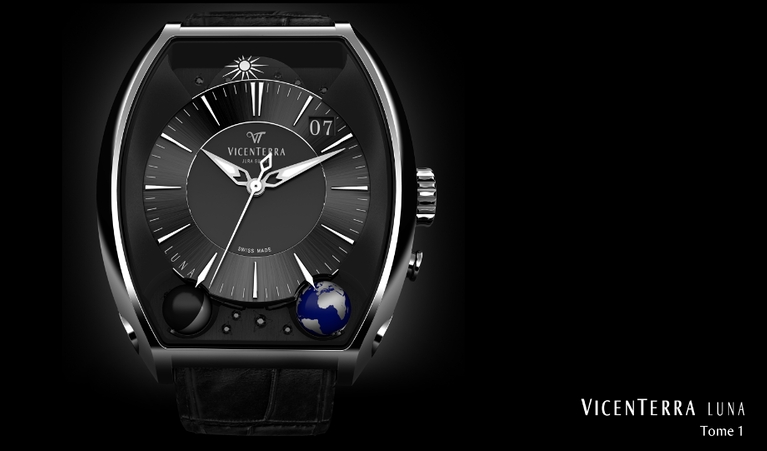 credit www.vicenterra.ch
Globally, the watch looks like the GMT-3, but VICENTERRA brought some noticeable differences:
The rotative earth, symbol of the brand, is still present of course, but comes with a second sphere representing the Moon.
The dial is more bald, to leave place for the reverie, and the index has been completly redesigned.
The Day/Night indication à 12H is still present also, but also redesigned with a comet that will illuminate your nights.
The pointer date is replaced by a big date: a simple opening in the dial without any ring, to be more discrete, with grey dials written on black, among the graduations... the integration is a success.
THe hands are new also, and have Luminova, that was missing on the tome 1 of the GMT-3.
The interior of the watch is all black-coated, to let your look dive inside...
The bottom of the watch is spangled with 12 little stars made with black diamond.
At last, let's talk about what you can't see, the mechanic!
Here also, there is a big change: we go froman ETA on the GMT-3 to an awsome VAUCHER Manufacture Fleurier, animated by an golden rotor wonderfully decorated. They give power to a new exclusive VICENTERRA module, black-coated with rhodium to come with the dark night where the moon will bright!
Globally, this is a wonderful watch, with a warm design, that earns in maturity without loosing in poetry...
So, will you be tempted by the Moon?....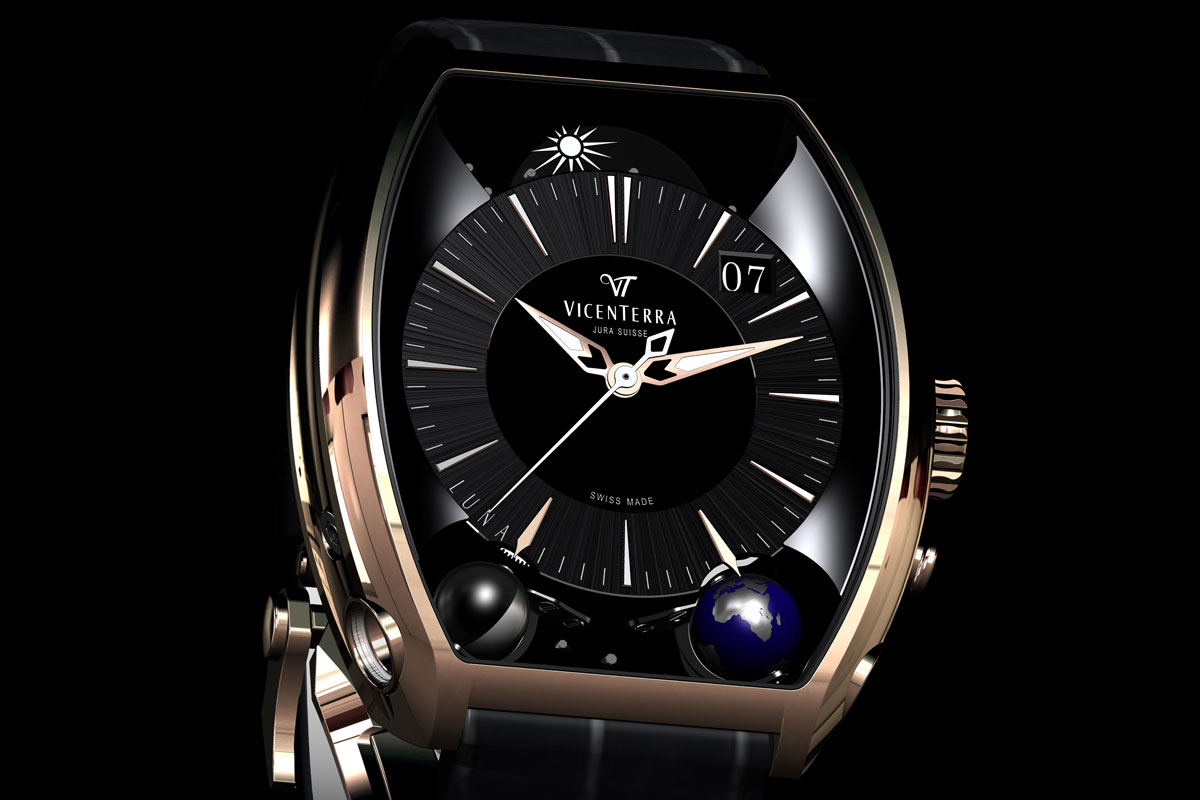 Tehcnical datas:
- Caliber Seed VMF 3002: 28 rubis, 42H of autonomy.
- Additionnal Module: 17 jewels, plates black coated with rhodium, and shaped.
- Water-Tightness: 3ATM.
In pre-order, prices comes from 13.500€ for the Steel version, until 31.300€ for the platinium version. The price of the dream in pre-order. After that, prices will raise.
All informations available on http://www.vicenterra.ch/#!modele-luna.
A little video to keep-on dreaming:
Membres qui aiment ce contenu
⨯
Inscrivez-vous au blog
Soyez prévenu par email des prochaines mises à jour
Rejoignez les 22 autres membres